A casual 2010 in Azeroth
04.01.2011
Each year (apparently, as I can't tell you much about previous years), WordPress.com sends out a report on how your blog did. Everybody around seems to be posting some sort of yearly recap, so I figured, why not, let's try this.
Blog Health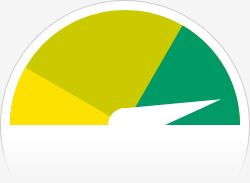 The Blog-Health-o-Meter™ reads Wow.
Truth be told, I have no clue what they're measuring. Consistent posting and visitors, presumably. From what my stats tell me, there indeed seem to be regulars, feedreaders and a surprising amount of linkage coming to this little blog, so while 'Wow' may be exaggerated, I'm pleasantly surprised.
I'd like to thank all of my readers at this point, as well as my favourite commenter, Saga – it's been a pleasure so far and I'm hoping all of you will stick around a while longer.
More stats and a quick review of my year in Azeroth after the break.
Crunchy numbers
A Boeing 747-400 passenger jet can hold 416 passengers. This blog was viewed about 2,500 times in 2010. That's about 6 full 747s.
In 2010, there were 71 new posts, not bad for the first year! There were 43 pictures uploaded, taking up a total of 33mb. That's about 4 pictures per month.
The busiest day of the year was March 13th with 49 views. The most popular post that day was Goldsellers and you.
Passenger train equivalents would be more useful, as I don't travel by plane. Or maybe kilometres of traffic jam on the A6. At any rate, not bad. I also need to post more screenshots, but I often forget. The most popular post wasn't that surprising – a controversial topic, posted during a wave of similar entries on other blogs – unashamedly promoted by commenting and linking.
Where did they come from?
The top referring sites in 2010 were blogazeroth.com, facebook.com, digg.com, slashingtongue.com, and twistednether.net.
BlogAzeroth and TwistedNether are expected (although I need to get back into the weekly shared topics), as is Facebook to a certain extent. Digg was surprising and slashingtongue? WTF is that?
Some visitors came searching, mostly for everything azeroth, draenei licking human, draenei licking a human, how to setup your action bar clearly, and worgen priest.
Draenei licking human. I still refuse to comment or publish those pictures.
Attractions in 2010
These are the posts and pages that got the most views in 2010.
1
Goldsellers and you March 2010
1 comment
2
Swamp of Sorrows – Renders hidden pass revealed August 2010
2 comments
3
Lessons learned July 2010
5 comments
4
A mage and a warlock walk into a bar May 2010
2 comments
5
The reason you need to play a mage July 2010
5 comments
Overall, also what I would rate as good posts on this blog. A lot of people seemed to be looking for a way into Swamp of Sorrows, as my search result stats also tell me. I need to do an update on that, though, since as of Cataclysm, the pass is not only guarded by an elite dragon rider, it's also, well, impassable. There goes that prediction ("… it will still be useful…").
Azeroth Review
Starting out with eight characters for eight of ten classes, I'm now at ten for ten, including a deathknight and a Worgen (though I haven't played her much, because of the current 'new' factor issues I ranted about). I've successfully started an AltGuild consisting of me, as well as a couple of guild bank tabs.
I didn't manage to keep all my characters within the same level bracket, though. My paladin started to get a run when the Shattering with its new zones and new questline experience hit, then continued on so I could roll a deathknight and is now sitting on level 70, debating if I should just go on until Northrend before I switch again.
PvP ranked pretty low on my list, although I enjoy the occasional Battleground. Soloing instances is also fun, just like speedruns with my paladin. Until now, I never had gold issues, but I choked when I saw the price tag for artisan riding (5k). My paladin only has about 1.3k on hand, at an income rate of only maybe 300 gold a day.
Final Words
It's been a good year and an enjoyable arrival in Azeroth. Soloing is a lot more viable in WoW than it was back in Ultima Online, thanks to quests and instances. Yes, I might be far off from the best gear, but the gear is still overpowered for most of the content (for example I find most of the G3 or even G4 quests in Outland still too easy, but that may also be related to the talent tree revamp).
I've also clocked a staggering amount of playtime, perhaps even more than in UO. Still doesn't beat my active Counterstrike days, but those were as leader of a league / tournament team and dealing with the whole clanleader shenanigans to boot. I don't have the current count, but /played for all characters is in the ballpark of 700 hours.
So, I'm glad I finally decided to try out WoW, and I'm also quite happy that this blog turned out to be a good idea. For better or worse, I'll be sticking around for 2011!